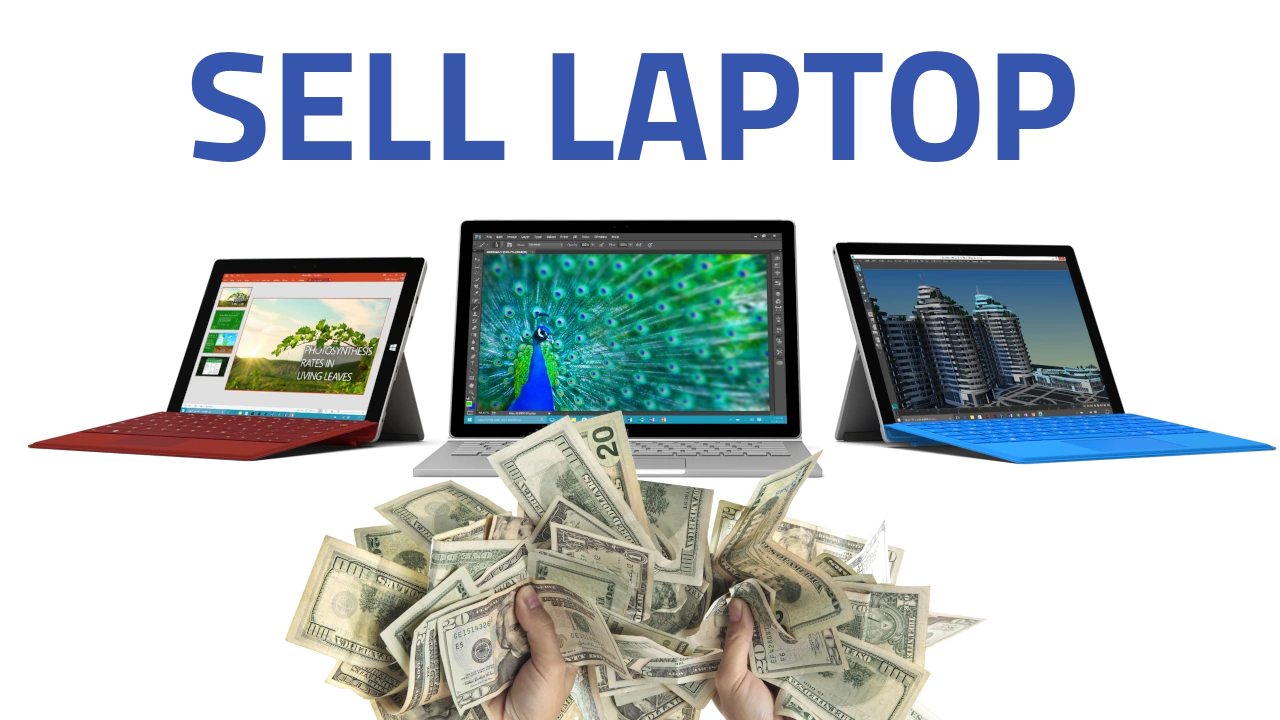 Today laptops is not just a personal computer, but a lot more. We want computer to perform other routine task, like watching the movie, play games or do business calculations. But the challenge is always with obsolescence of the computers and particularity laptops. There are many vendors that sell laptops out there on the market, and many modifications and specialization of laptops.
5 Steps to Sell Laptop:
Go to CashAlaptop

In the URL address section in the browser of your choice - type cashalptop.com. Once the website is loaded look for the device selection options section

Chose your laptop model

In the device select drop down menu you can search or select your laptop model. Of for some reason your laptop is nor present or you cannot find it in the laptop database, then submit a custom offer.

Next, is your laptop condition questions

At this step your should mark everything you think is wrong with your laptop. It doesn't matter, new, old or broken. Please be sure to mark the checkboxes that are apply. Also check the cosmetic condition tabs.

Proceed to cart overview once done with laptop conditions

At this step you will verify that everything is checked out by your or the website system is correct. Make sure you have your laptop quantity adjusted properly

Fill out a shipping form request

This is easiest step in the whole laptop selling process, all you do is fill our your home address. We will have the label ready for you once the quote is summited.

*Note. The system will send your summary with the label link as well as follow up if the shipping label is not created.
We buy brand new top selling laptops, but then with in a few month is not a top selling laptop anymore. The laptop computer vendors seem to make laptops not powerful enough that they would serve a longer, to our business and entertainment needs and purposes. Some people even think, it's a good idea to make computers or laptops that will be obsolete as soon as they have been bought, and it happens because manufacturer wants to sell laptops as much as it can.
It's not a hardware that gets obsolete, it's a software that requires more resources and more CPU power to satisfy contemporary customers needs. Of course there are some desire to the laptop design as well but not as much s performance. It's worth mention that some people still like a new laptop look with the best design that laptop manufacturer can offer in the newer models.
It looks like one way or the other we will have to coupe with idea of getting newer laptops all the time. But, what to do with old used laptop, that considered to be no longer good? The answer is to sell laptop on-line, or sell it to some walk in recycling place. The problem that most walk-in recycling places won pay anything for it or even charge you to dispose your old laptop. So, the idea of selling laptop to them is out. Why not to sell laptop on-line? That is the best option out there to gain cash for you old outdated laptop.
There are a lot of option on how to sell laptop on-line, let's discuss some of them. And the first one that most people would think of is – an auction sites, where people can list laptops for sale and wait until someone bid on it, but what if the bid is too low? What about shipping charges? And finally the final hidden sale fees? After consideration it might appear that this option is not the best one. The second and the best option probably is to sell your laptop to one of the buy-back companies like CashALaptop.com.
Why CashALaptop?
It's always the best price for your laptop. It's the best service and support when you sell your laptop. It's the best price for your laptop, Apple Mac or other device.
Check it for yourself by filling out an instant-quote at CashALaptop.com – the best place to sell laptop online.